About Us
Cairns Urology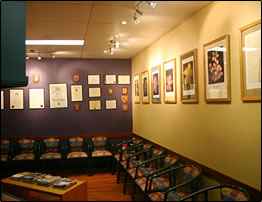 The clinic specialises in the diagnosis and management of prostate cancer and patients are usually referred for the investigation of this condition because of a change in their prostate specific antigen (PSA blood test) or findings that have been observed upon examination by the referring doctor.
At our clinic Dr Neil Gordon regularly performs Trans Rectal Ultrasound guided prostate needle biopsies and patients undergoing those procedures can expect to have their results in 2-7 days. Dr Gordon has introduced Cryotherapy for treatment of Prostate Cancer in Cairns and is the second Urologist in Australia to routinely be able to offer that treatment option to patients for their condition.
Our friendly and helpful staff are available to assist you with any information you may require. Bookings may be made personally or alternatively patients may be referred by their General Practitioners or other Specialists in order to be able to obtain Medicare rebates for consultation fees.
Cairns Urology is located at the corner of Spence and Bunda Streets in the tropical City of Cairns, Queensland, Australia. It is conveniently located opposite the Cairns Central Shopping Centre and Railway Station. There is onsite car parking and also parking available in the street and also at Cairns Central Shopping Centre (see location map).
Our office hours are from 8am – 5pm Monday to Friday.
For appointments, please call us during office hours on (07) 4041 0700.
For detailed information about the full range of Urological services provided by Cairns Urology, please visit our website at www.cairns-urology.com.au.